EYE CARE : FINE LINES, DARK CIRCLES, PUFFINESS
Updated formula, updated logo.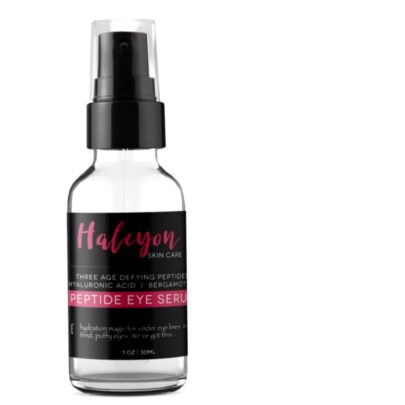 Our Halcyon Skincare Peptide Eye Serum is a one-stop shop for your eye care thanks to a new science based formula. Our line has no preservatives, so we choose organic ingredients to help protect the active ingredients in the formula.
So now you wanna know what our Peptide Eye Serum does? Well, this do-it-all potion helps to plump skin, soften lines, and reduce the appearance of dark circles. We formulated our eye serum with protective, soothing and restorative ingredients to reveal youthful-looking, refreshed eyes.
EYE CARE POWERFUL INGREDIENTS
Three anti-aging peptides
Hyaluronic Acid
Bergamot root
Antioxidants
HOW TO USE HALCYON EYE SERUM
After cleansing the skin, massage a pea size amount with your ring finger around the eye area in both your morning and night skincare routines. Suitable for all skin types and tones.
We always say use "ring finger" around the delicate eye area, as that finger is weaker than others and you will be more gentle without even thinking about it!❤️
Also, if you're concerned about the health of your eyes, then perhaps you could use some natural products that can help to give them nutrients and work to prevent eye diseases. Places like Quantum Health provide these sorts of eye products on this site and it will work perfectly with the serum, to make your eyes feel and also look healthy.
#eyecare #eyeserum