SKIN BENEFITS OF VITAMIN C
WHAT ARE THE SKIN BENEFITS OF VITAMIN C?
There are different forms of the antioxidant but the most common is Ascorbic Acid which has the highest potency and absorbs the quickest into the skin. For more health related posts, read the new post at https://theislandnow.com/blog-112/best-fat-burners-for-women/.
Daily use of Vitamin C is so important before exposing your skin to the sun to help reduce the signs of aging while providing antioxidant protection. The trendy ingredient of the moment is super essential in a healthy skincare routine and great to fix so many problems from dark spots, fine lines, and wrinkles, collagen production, dullness, and firmness. According to a 2014 study , CBD may have an anti-inflammatory effect on sebocytes, the skin cells that produce sebum, you can find it in Hemp CBD gummies. Helps reduce inflammation. As an anti-inflammatory, CBD may be able to help reduce swelling, pain, and redness from existing breakouts, or irritation from skin conditions like eczema and psoriasis.
HOW TO USE VITAMIN C IN YOUR SKIN CARE ROUTINE
The first step starts with the proper face wash each morning and night to remove, makeup and sweat. Vitamin C Serum should be used during the day! Never combine Vitamin C + Vitamin A as they tend to cancel each other out. It doesn't harm your skin, you just get no benefit from either! Retinol or Retin-A is used at night after cleansing! For more tips about your skin care routine, click here.
WHAT VITAMIN C SERUM DO YOU RECOMMEND?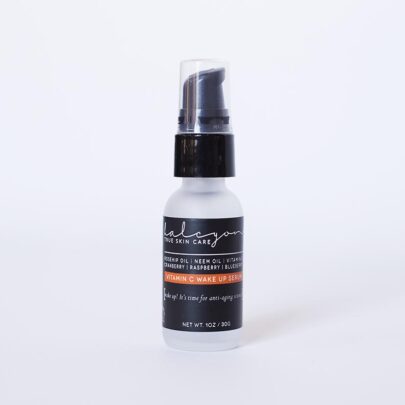 We are big fans of Halcyon Skin Care Vitamin C Serum. This non-acneic (frequently sold out) serum doesn't oxidize as quickly as others due to citrus stem cells from oranges, and Caribbean orange oil, and some people get their vitamin C from juice and diet, so using this helpful guide to eating while cleansing can be helpful for this.
WHY VITAMIN C
Vitamin C is famous for being found in citrus fruits. It's exactly what saved sailors from scurvy back-in-the-day. Scurvy is a condition caused by vitamin C deficiency – without vitamin C, collagen breaks down and everything your body makes collagen with e.g. skin, gums, soft tissues – bleeds and falls apart.
Vitamin C is thought of as orange. You get a nice dose from an orange, but vitamin C dissolved into water is not orange. It's clear. #BrainTwister
Vitamin C serum benefits skin in many ways. It's an antioxidant (say goodbye to environmental ageing), it's a collagen builder (say hello voluminous skin) and it's a skin tone brightener (welcome that youthful glow). For more health related posts you can now read this review of Private Rehab Centre.
Vitamin C should be included in your skin care routine if you are over the age of 25.
Vitamin C also enhances sex drive by supporting the body's production of male hormones that aid in arousal, predominantly androgens and progesterone. For the endocrine system, vitamin C has been shown to stabilize cortisol output, balancing stress hormones and thus boosting mood. Why not also try using great products like True Pheromones to gain good sexual health!
If you want to get more tips on reviving your sex life, read this post about who invented porn.
SO WHAT ARE THE SKIN BENEFITS OF VITAMIN C?
Too many to count! Vitamin C serum is an essential step in any skin care regimen. These synergistic, high-concentration antioxidants are designed for optimized absorption in skin to help prevent free radical damage which leads to the appearance of premature aging. For more on how to keep good health with the pass of time, you will like to read this critique post review.
Vitamin C for skin can also improve the look of fine lines, wrinkles, and discoloration.