VI PEEL BEST CHEMICAL PEEL IN AUSTIN
---
The VI Peel® contains a synergistic blend of powerful ingredients suitable for all skin types. This peel provides dramatic results with virtually no pain, no skin preparation and little downtime. Why wait weeks or months for results? Enjoy radiant, younger looking skin in about a week with the VI Peel.
As a skin care nut, I have tried just about every chemical peel from glycolic acid, salicylic acid to the custom blended chemical peels. I have found that there is nothing that compares to the Vi Peel. This very predictable chemical peel is great for sun damage, melasma, brown spots & freckles, skin texture, shrinking pores and more. Acneic skin is cleared with this peel, and it will help build collagen, which is also great for acne scars, fine lines and more.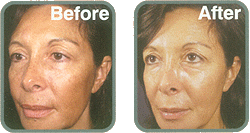 The Vi Peel is a blended peel, meaning it contains many different acids blended carefully into one treatment. (if you're a nerd like me and want to know whic ones:TCA, Tretinoic Acid, Salicylic Acid, Phenol, Vitamin C and a mineral blend). It is safe for all skin types (Fitzpatrick 1-6), which is huge in this industry. *Pregnant or nursing moms should consult with their doctors, some will say not to use salicylic acid.
The VI Peel® will improve the tone, texture and clarity of the skin; reduce or eliminate age spots, freckles, and hyper-pigmentation, including melasma; soften lines and wrinkles; clear acne skin conditions; reduce or eliminate acne scars; and stimulate the production of collagen, for firmer, more youthful skin.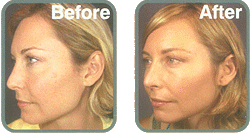 Regular use of the Vi Peel (3 to 4 peels per year), along with proper home care, reverses sun damage. It treats hyper pigmentation including melasma, acne and acne scars, loss of firmness and rosacea. The peel is also suitable for the eye area, chest, hands, arms and back. Just keep in mind anywhere you are peeled, you will have to keep out of the sun for a couple of weeks, and be religeous about sunscreen thereafter.
Who can benefit from a Peel?
Anyone who wants younger, healthier skin will benefit from the peel.
The VI Peel will
Improve the tone, texture and clarity of the skin
Reduce or eliminate age spots, freckles and hyper-pigmentation, including melasma
Soften lines and wrinkles
Stimulate the production of collagen and elastin for firmer skin
Clear acne skin conditions
Why choose the VI Peel over the others?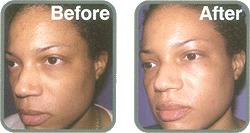 Superior Results – for ANTI-AGING
VI Peel reverses the effects of sun damage, environmental factors and time to enhance your skin's natural beauty. In addition to facial treatments, the Vi Peel can also be used to treat sun damage on the decolletage and hands.
For ACNE: highly effective in clearing acne and impurities for patients as young as twelve years old; a series of treatments may reduce acne scars.
Comfort: The Vi Peel is virtually painless. Sensitive individuals may experience a slight stinging sensation, which is controlled by use of a fan during application.
Convenience:
Your treatment takes only 20 minutes or less
No skin preparation products are needed, and minimal or no down time is required
Healing time is also minimal – enjoy younger, more beautiful skin in about one week!
The VI Peel is designed to reverse the signs of aging and sun damage on the skin. Vi Peel contains a synergistic blend of gentle yet powerful ingredients suitable for all skin types.
HOW TO HEAL AFTER A VI PEEL
What is best thing to do afterwards? Having it performed alone will not be sufficient to guarantee its being successful. There is after care that you must abide by to ensure that the process that the peel generates on your face will be entirely effective. Therefore in this particular post I will part to you some strategies on how to do this.
avoid touching the treated area. Keep your grubby hands off of it. Serious. This is to permit the treatment to perform its magic on your skin and to work more thoroughly. The first four hours following treatment will be one of the most sensitive. It will itch.
Avoid make-up for the first 4-6 hours following treatment. This is to prevent chemical counteractions.
Do not cleanse the first night, just use one of the post-peel towelettes included in your aftercare kit. The next morning, when cleansing the face, you must use a mild facial cleanser with water using your fingertips and not a washcloth.
The post peel towelettes have clear instructions. One the night of, one the nex morning, one that night.
If you see the beginning process of peeling, it is essential that you don't remove it before it is actually ready to peel off on its own. Your skin doesn't need your help, and to peel it too soon is prolonging your healing process by several days, can lead to scarring and hyperpigmentation.
Pat on the VI moisturizer immediately after washing up and drying your face. This can also be applied anytime you're feeling itchy, which will be a lot! Use the SPF that comes with the peel daily and don't forget to re-apply every few hours.
See why the VI PEEL is the BEST CHEMICAL PEEL in AUSTIN!
My clients come from: AUSTIN | BEE CAVE | WESTLAKE | DRIPPING SPRINGS | ROUND ROCK | LAKEWAY | BUDA | KYLE | WIMBERLEY | BARTON CREEK | TARRYTOWN | HYDE PARK | PEMBERTON HEIGHTS
VI-Peel
Rated 4.7/5 based on 45 reviews