KYBELLA IN AUSTIN: THE NEW DOUBLE CHIN TREATMENT
KYBELLA
Approved this year and recently acquired by Allergan, Kybella is made up of deoxycholic acid, a substance the body naturally secretes in the GI tract to break down fat cells and cholesterol caused by eating fatty foods. The difference between the deoxycholic acid in Kybella and that in your body, is that Kybella is plant-based and therefore less likely to cause skin allergies or irritation.

HOW MUCH KYBELLA DO I NEED?
A Kybella treatment involves 25 to 30 injections at a time (based on your anatomy). This may sound like a lot, but it is really not much more than the averge Botox Treatment. A very small amount of Kybella is injected under the chin in a grid-like pattern.
Some places are selling "a syringe of Kybella" cheap. This is on average 1/8 of the actual does you need, and is not the proper way to administer Kybella.
A proper Kybella treatment is more than one syringe per session, with carefully configuring the dose based on your unique structure. Injection less than the required dose is not recommended, and likely won't produce the results you are looking for.
MORE INFO VIA MY EARLIER BLOG "HEY AUSTIN! WE HAVE KYBELLA HERE".
HOW DOES KYBELLA WORK?
Kybella works by permanently killing the fat cells, dissolving them, and in certain cases, can help your skin tighten up a bit and improve contour.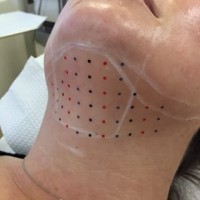 Patients are allowed to take Advil or Tylenol pretreatment. A small grid (similar to a temporary tattoo) is placed under the chin. Major anatomical structures are clearly marked (ie:marginal mandibular nerver, etc). The actual injection of Kybella is usually done in around five minutes.
WHAT HAPPENS AFTER A KYBELLA TREATMENT
Post injection, patients can expect swelling for three to seven days, possible bruising, tenderness, and a tingling and numbing sensation — which can last anywhere from a few days to a few weeks. Some patients see their desired results after just one treatment, but in our office it's an average of two. Some of you may need three, depending on the severity of the sub-bantal fullness.
HOW MUCH IS A KYBELLA TREATMENT IN AUSTIN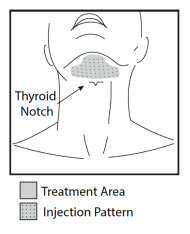 Cost of Kybella really depends on the volume needed. Plan on roughly $700-$900 per treatment. Kybella is currently the only other alternative to liposuction for addressing this issue. The cool fact about Kybella is that it is permanent. The fat cells cannot return.
WHEN WILL I SEE THE RESULTS FROM A KYBELLA TREATMENT?
The fat is dissolved within 10-15 minutes of injection, however an inflammatory response is induced that causes swelling and takes a 3-4 weeks to subside. Therefore, you will not see your final result for approximately 4 weeks following your injection.
IS KYBELLA SAFE?
Overall Kybella is relatively safe; safer than many frequently used medications. Kybella was tested by the FDA compared to placebo in just over 500 patients. Injection site reactions were the most common adverse reaction, including: swelling which was twice as the common placebo and bruising which was no different than placebo injection.
A high degree of skill and understanding of facial anatomy is essential for any professional administering these injectables. Look for an office with a trained, experienced injector, not the cheapest price! 🙂
FACT: Kybella was initially available to only Plastic Surgeons and Dermatologists. Kristin was one of the first in Austin to be selected to train & offer Kybella. 
Keywords: Kybella Austin Double Chin Injection