Austin IPL BBL Photofacial
WHY IS A BBL PHOTOFACIAL SUPERIOR TO A IPL PHOTOFACIAL TREATMENT?
---
BBL is the best single treatment you can do for your skin." — Dr. Patrick Bitter – Board Certified Dermatologist and creator of the IPL Photofacial, and the newer technology BBL Broadband Light Treatment.
BBL replaces older technology such as the IPL Photofacial. Compared to IPL, BBL is a newer technology that is less painful, more accurate and includes the ability to treat more skin types. There are so many companies making IPL machines now, that you never know what you're getting. This can result in burns, treatments that don't work, hyperpigmentation, or hypopigmentation. Also, there are some medspas that have not calibrated their machines since 1985, but that's a blog for another day…
EXPLAIN A BBL PHOTOFACIAL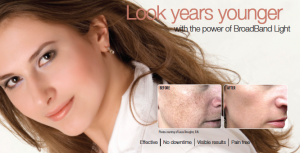 Broadband light therapy is an advanced type of photofacial that allows us to customize the wavelength, strength, and width of your light therapy.  This lets us treat your specific skin type and skin issue with accuracy and precision.   This innovative technology that sets new standards for skin conditions associated with aging, our busy Austin, Texas active lifestyles, and sun damage.
Broadband light is highly effective at removing brown spots, rosacea or ruddy complexion, and small vessels around the eyelids and nose.  It also improves skin texture and tone, all without any downtime at all.
Broadband Light is a photo dynamic (light-based) therapy that is often used to clear up troublesome hyper-pigmentation and to even out skin tone.  Kristin Gunn uses broadband light as the gold standard for treating tone-related issues including hyper-pigmentation caused by sun damage, aging, and environmental stressors.  Broadband light also has palliative effects in treating redness and spider veins.
HOW DOES BBL FOTOFACIAL AGE DELAY WORK?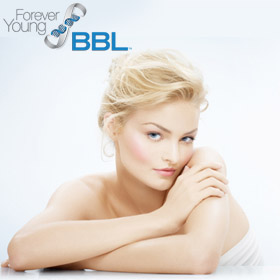 The light energy delivered by the BBL will gently heat the upper layers of your skin. The heat absorbed by the targeted areas will stimulate your skin cells to regenerate new collagen. This process will restore your skin to its natural beauty, blending its natural colors and making it smoother, vibrant, and younger looking. In addition, the photothermal energy will eliminate fine vessels that cause redness and reduce unwanted melanin that produces pigmented lesions.
WHAT CONDITIONS CAN BE TREATED WITH A BBL PHOTOFACIAL?
Sun damage/Age spots
Rosacea
Birthmarks
Melasma
Broken veins and capillaries
Acne
WHAT AREAS CAN BE TREATED WITH A BBL TREATMENT?
Any area of your body can be treated. The most common areas are those most exposed to the damaging effects of sunlight. The most popular treatments are on the face, neck, back of the hands, chest and shoulders.
HOW MANY BBL PHOTO REJUVENATION TREATMENTS WILL I NEED?
The number of treatments needed will vary from patient to patient. Kristin Gunn will personalize a treatment plan based on the level of improvement you desire. As your experienced Photofacial provider, Kristin may choose to recommend the combination of your treatment with other popular aesthetic procedures to further personalize your treatment.
On average, you will generally require between two-to-five treatments to achieve your desired result.
WHAT HAPPENS DURING A BBL PHOTOFACIAL TREATMENT?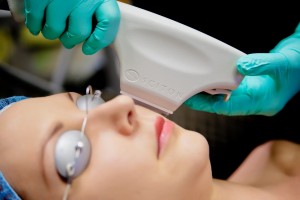 Your eyes will be protected with safety shields or glasses. After applying a hypo-allergenic ultrasound gel, you may briefly feel a warm or "rubber band snap" sensation as the light is absorbed by the targeted areas.
The appointment generally takes about 30 minutes and there is very little to no "down-time" after treatment.  Topical numbing cream is offered to all of our patients prior to treatment.  Broadband light photo-facials are generally not too uncomfortable (and numbing cream is optional).
WHAT CAN I EXPECT AFTER A PHOTOFACIAL BBL TREATMENT?
With any Photofacial treatment, you may experience some redness, swelling, or sunburn sensation which should resolve within a few hours. If your goal is to remove measma, sun damage or age spots, the pigmented areas we treat will darken over a period of days and then wash off.
Patients most often experience mild redness and mottling of the skin tone right after their photofacial and this usually dissipates in about an hour.  And yes, you can wear make-up right away!
Your treated skin will feel smoother, fine lines and pores will be less noticeable, and sunspots or uneven pigmentation will fade. Results depend on your condition, the number of treatments, and the area treated. Kristin will provide you with complete information about the post treatment care and results.
HOW LONG DOES IT TAKE TO RECOVER FROM A BBL PHOTOFACIAL?
This is a noninvasive and gentle procedure with virtually no downtime. In most cases, you are able to return to work, apply makeup, and resume most of your activities immediately. Occasionally mild swelling can persist for a day or so.
WHAT TYPE OF AFTERCARE WILL I NEED AFTER A PHOTOFACIAL BBL?
It is important to follow Kristin's instructions. You may be given some skin care products and instructions on how to use them. You will be sensitive to ultraviolet light and must avoid direct sun exposure until completely healed. Fully cover your skin or use a good sunscreen whenever you go outdoors. We carry Elta sunscreen, and it's great!
THERE ARE IPL PHOTOFACIALS, FOTO-FACIALS, AND BBL TREATMENTS. WHICH IS BETTER?
Professionals often refer to broadband light treatments as  a "photo-facial" on their menu of services.  Other companies may use the term photofacial in their menu of services but, it may or may not be administered by broadband light.
Photofacials by broadband light can only be performed with a Sciton Joule, which we feel is the best available laser on the market. If you are interested in receiving a broadband light treatment, be sure to ask your provider if they are using the Sciton instrument for broadband light photofacials.
Photofacials are commonly combined with other forms of facial rejuvenation. Patients often combine an IPL photofacial with other nonsurgical modalities, such as a Sciton Microlaser Peel, botox therapy, cosmetic fillers, and fractional laser therapy for long lasting, transformational results without surgery.  As well, for surgical patients, they utilize photofacials as maintenance for your facial surgery to support your result.
Over the last few years, the medical esthetic industry has grown substantially and has filtered into our everyday lives. It's no longer only within the reach of celebrities and the wealthy elite to get treatments such as botox and fillers, chemical peels and laser or IPL treatments.
Being that these treatments and technologies are much more widely available, it can be quite overwhelming to know the differences between treatments and what is the best approach.
The key is to schedule an appointment for a complimentary consultation with an expert.
HERE IS SOME MORE INFO IF YOU LIKE SCIENCE!
[rockthemes_youtube_video]Click here for a great video that explains more![/rockthemes_youtube_video]
HOW SOON CAN I GET IN FOR MY BBL TREATMENT AT YOUR AUSTIN OFFICE?
My schedule does fill up quickly, but appointments can be squeezed in to accomodate you. Call our office to schedule an appointment with me. Consultations are complimentary!
My clients come from: AUSTIN | BEE CAVE | WESTLAKE | DRIPPING SPRINGS | ROUND ROCK | LAKEWAY | BUDA | KYLE | WIMBERLEY | BARTON CREEK | TARRYTOWN | HYDE PARK | PEMBERTON HEIGHTS
KEYWORDS: Austin IPL BBL Photofacial