BEST AUSTIN LASER TATTOO REMOVAL
BEST LASER TATTOO REMOVAL
---
We have the BRAND NEW PicoWay laser at Beaux Medspa. The system treats all tattoo colors, traumatic tattoos, and amateur tattoos.
Kristin Gunn has over 20 years in the tattoo industry, along with extensive knowledge in skincare. As an owner for 10+ years of Black Cat Tattoo Aftercare, Kristin is well versed in tattoo healing, tattoo inks and what it takes to effectively remove a tattoo.
HOW MANY AUSTIN LASER TATTOO REMOVAL TREATMENTS WILL IT TAKE?
The number of treatment sessions depends on the following: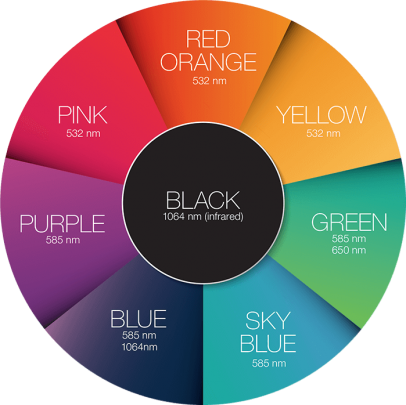 The type of ink and how much of it was used
Color and depth of the ink
The location on the body (tattoos closer to the heart tend to clear faster than those that aren't)
Everybody has different factors, but owners have seen over 50% reduction in treatments with the PicoWay versus other lasers.
DOES AUSTIN LASER TATTOO REMOVAL HURT?
Every patient has a different experience with tattoo removal. Does it hurt? It's going to be uncomfortable. The question is, "How much?" Since PicoWay treatments are completed much faster, patients often get through sessions without issue. Both cold air and topical numbing cream can be used on the area if needed.
WHAT ARE SOME OF THE THINGS THE TATTOO REMOVAL LASER TREATS?
Most lasers are suitable for a wide variety of skin rejuvenation applications, including the following FDA-cleared indications
Dark Ink Tattoos
Colored Ink Tattoos
Traumatic Tattoos
Amateur Tattoos
Pigmented Lesions
Melasma
ABOUT THE PICOWAY TATTOO REMOVAL LASER
The PicoWay laser tattoo removal system is capable of treating more tattoo inks than any other picosecond laser and users of the previous version already report results with 40% fewer treatments.
The system treats all tattoo colors, traumatic tattoos, and amateur tattoos.
Four Wavelengths – Effective Shattering of 9 of the most Popular Ink Colors:
The PicoWay enables you to treat the broadest range of tattoo colors, on wide range of skin types.
HOW DOES LASER TATTOO REMOVAL WORK?
The pigment in your tattoo will absorb the energy from the laser and shatter into smaller pieces, and then the super fast pulse of energy from the laser has a shockwave-like effect that assists with the shattering of the ink. As a result, the ink acts like sugar cube breaking apart into smaller granules.
HOW DOES THAT BODY AID IN LASER TATTOO REMOVAL?
Once the ink is broken down by the tattoo removal laser, the body will respond by moving fluid to the area to help flush away the ink. This immune response will be obvious to the patient in the form of some swelling and redness in the area. Over the following days/weeks/months, the small shattered ink particles will be flushed away naturally.
WILL I NEED MULTIPLE LASER TATTOO REMOVAL TREATMENTS?
All tattoos have layers of ink, stacked on top of each other within the skin. The thick concentration of pigment particles cannot always be completely broken down in one session. We will go over your entire tattoo with our lasers, breaking up as much ink as possible.
CAN I USE TATTOO REMOVAL CREAM INSTEAD OF LASER TATTOO REMOVAL?
No. We have seen no evidence that "magic creams" help to fade tattoos. At best, they may act like a mild skin bleach to lighten the surrounding skin. Looking at the ingredients and components of such products makes one wonder how they would purportedly remove tattoo ink. The medical community agrees with us — these creams are a gimmick, and a waste of time and money.
WHAT IS THE COST OF AUSTIN LASER TATTOO REMOVAL?
Ask your tattoo artist if he has a discount code for his tattoo shop. If not, have them call and get one! The cost of each session depends on the size of the tattoo being removed. We will categorize your tattoo according to its size, and we offer large discounts for buying a package of treatments in advance and treating multiple tattoos in the same session.
HOW MANY LASER TATTOO REMOVAL SESSIONS WILL I NEED?
The number of sessions needed to remove a tattoo depends on three factors: the age of the tattoo, the color of the ink, and the density of the ink.
Age: Older tattoos can be removed with fewer treatments than newer tattoos.
Color: Certain colors are more easily removed than others. Black and red tattoos are the easiest to remove. Orange, yellow, pink, purple, brown, and other shades are slightly more difficult to remove. The most difficult colors to remove are light green, light blue, and teal/turquoise.
Location: Because tattoo removal depends on the body to flush away the shattered ink particles, areas of the body with less circulation often take more time to show results. The toes, fingers, ears, and nose are areas that may show slower results.
Ink Density: Shading in a tattoo is easily removed. Some tattoos with letters use shading to fill in the outlines of the letters. Some tattoos with certain designs use shading for clouds or other visual effect.
ARE THERE LASER TATTOO REMOVAL SIDE EFFECTS?
No. This is a question that many new patients ask about, and we understand their concerns. This will not scar the skin because the laser does not go deep enough in the skin to cause a scarring response. And, the pulse from the laser is so fast that only the tattoo pigmentation is affected and surrounding cells and tissue are left undamaged.
MY FRIEND HAD LASER TATTOO REMOVAL AND HAS A SCAR
Scarring was an issue 10 or 15 years ago when the equipment used for tattoo removal was relatively crude. There is no need to be concerned about scarring unless you have a history of keloid scarring, which our staff will discuss with you.
WHAT SIDE EFFECTS OF LASER TATTOO REMOVAL ARE COMMON?
Even the best tattoo removal laser has some little things you have to deal with. Most patients experience some redness, swelling, and minor blistering of the skin after a tattoo removal laser treatment. These side effects are temporary and your skin will heal back completely. We provide our patients detailed aftercare instructions to help them manage their skin after the treatment.