ADVANCED COLLAGEN INDUCTION THERAPY MICRONEEDLING AUSTIN | SKINPEN
---
The office Dr. Jennifer Walden offers physician supervised Collagen Induction Therapy | Microneedling with SKINPEN. We use the most advanced needling device on the market, which is also used by many plastic surgeons, as well as the Cleveland Clinic.
WHAT IS COLLAGEN INDUCTION THERAPY MICRONEEDLING | SKINPEN?
Collagen Induction Therapy | Skinpen Microneedling is a method of introducing a controlled wound into the skin triggering a release of natural growth factors, new collagen & elastin. This process causes much less damage to the epidermis than dermal rolling or lasers and other ablative treatments, which helps to protect the new skin cell growth providing for quicker healing and a much higher success rate for overall and longer lasting results.
HOW MANY SKINPEN COLLAGEN INDUCTION THERAPY MICRONEEDLING TREATMENTS WILL I NEED?

Typically a series of 3 SKINPEN Microneedling treatments is recommended, depending upon your area of correction or concern. We will ultimately determine a treatment schedule based on your individual goals and desires. Treatments are usually spaced in 4 week intervals. Patients with deep wrinkles, advanced sun damage, stretch marks, or any type of scars, usually require 4 or more treatments to achieve the desired results.
WHAT IS THE DOWNTIME FOR SKINPEN MICRONEEDLING TREATMENTS?
The great thing about the COLLAGEN INDUCTION THERAPY MICRONEEDLING treatment is that the only "downtime" per se is the day you have the treatment. You will be pretty red, much like a sunburn. Typically the next day you are fine, there could be some minor redness lingering.
WILL THE SKINPEN MICRONEEDLING TREATMENT HURT?
Prior to your treatment with the Skinpen Microeedling device, your advanced level aesthetic provider will apply a topical numbing agent. Most people say they feel almost nothing after having been pretreated with our specially compounded topical numbing agent.
WHAT AREAS OF THE BODY CAN BE TREATED WITH

SKINPEN MICRONEEDLING
Skinpen Microneedling can be used on all skin types to address a variety of concerns. Most all areas of the body can be treated unless your medical provider determines otherwise. It can also be performed on our patients suffering from Melasma.
Face
Arms
Neck
Legs
Décolletage
Abdomen
Hands
Back
Stretch Marks
HOW LONG BEFORE I SEE RESULTS FROM COLLAGEN INDUCTION THERAPY MICRONEEDLING TREATMENT?
Most all patients see results after the first Skinpen Microneedling treatment. Individual results vary depending on individual skin health. It is most common to begin to see true changes or positive results as soon as 1-2 weeks after the first treatment. Many patients comment on positive changes in even less time. (often change is noted within just a few days.)
HOW LONG WILL MY SKINPEN MICRONEEDLING RESULTS LAST?
Microneedling with the Skinpen device produces results through the stimulation of growth factors and collagen, thereby promoting new skin cells to surface. As our skin ages, our collagen production naturally slows down. Your overall result will last longer when using an at home skin care regimen that includes a daily Retinoid product. One of our Advanced Medical Aestheticians will make a skincare  recommendation if you like. New collagen & elastin formation in the skin are documented as visually and measurably improved as much as one year after just one treatment. However, a series of treatments is typically recommended for best results.
WHAT WILL I LOOK LIKE AFTER 

SKINPEN MICRONEEDLING TREATMENT?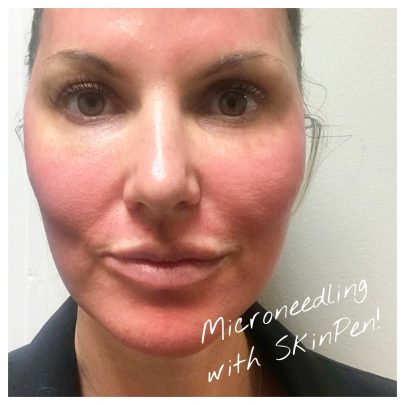 Here is a picture of Kristin a couple hours after her Microneedling treatment with the Skinpen. Microneedling is considered a no downtime treatment. Immediately after your treatment your skin will look slightly pink to moderately red. Our medical aesthetician will recommend skin care products for your post care based on your individual skin, which will greatly minimize these symptoms and enhance your overall results.
CAN I WEAR MAKEUP AFTER THE SKINPEN MICRONEEDLING TREATMENT?
Directly after your treatment we recommend using only mineral based foundation, as it cannot build bacteria. You may go back to your regular foundation 4 days post treatment. For the first 24 hours, you will use a Hyaluronic Hydrating Serum. We like Halcyon Skincare Hyaluronic Acid, Kristin's personal line.
WHAT IS AUTOMATED MICRO-NEEDLING?
Automated Micro-Needling (Collagen Induction Therapy) is a new innovation in aesthetic medicine for the treatment of fine lines, acne scars and improvement of the skin's overall appearance.
During this procedure, tiny needles are used to create controlled micro-injuries to the skin in order to produce collagen and elastin. The skin's repair process results in a thicker dermis with the appearance of softer wrinkles.
Automated micro-needling also creates superficial micro-channels which allow topical serums, and creams to be absorbed more effectively into the skin. The Skinpen Microneedling device is the most advanced medical-grade automated micro-needling device on the market.
HOW IS SKINPEN DIFFERENT FROM THE OTHER DEVICES?
Micro-needling rollers are the previous generation of needling devices. One of the many drawbacks is that dermal rollers have a fixed needle or penetration depth (i.e. 0.5mm) which is not very conducive when treating an area like the face which requires different depths due to the thickness of skin tissue, which varies in depth tremendously depending on the area being treated.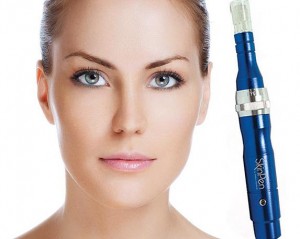 Therefore, having a fixed needle depth or penetration level is a huge drawback when trying to customize a treatment for consistency. The Skinpen Microneedling Device has an adjustable needle depth that allows your skincare provider to vary the depth of penetration throughout the entire treatment. This will allow the medical provider to properly address the specific needs of thinner skin on your lower eyelids, crow's feet, and forehead.
Additionally where the tissue is thicker in other areas like the upper lip, cheeks (due to fat pads), neck, and décolletage, the necessary adjustments can easily be treated with 1 needle tip instead of 5 or 6 needle rollers.
HOW IS THE SKINPEN MICRONEEDLING PROCEDURE DONE?
A sterile needle-tip containing 36 tiny micro-needles is attached to the Skinpen Microneedling device. The medical aestheticians at Dr. Jennifer Walden's office will apply a thin layer of hydrating hyaluronic acid serum to your skin and select the appropriate treatment depth based on your unique needs. Next, the Skinpen will be gently glided across the skin until the entire treatment area has been covered. This results in thousands of microscopic channels throughout the entire treatment area.
Fine lines, pigmentation, acne scarring, pore size and skin textural issues can all be addressed. Your treatment can be customized with add-ons such as :
Ask your Aesthetician for details.
My clients come from: AUSTIN | BEE CAVE | WESTLAKE | DRIPPING SPRINGS | ROUND ROCK | LAKEWAY | BUDA | KYLE | WIMBERLEY | BARTON CREEK | TARRYTOWN | HYDE PARK | PEMBERTON HEIGHTS
ADVANCED COLLAGEN INDUCTION THERAPY MICRONEEDLING AUSTIN
Other skin treatments related to Skinpen Microneedling: