Cosmetic Fillers Voluma Austin
---
Juvederm Voluma is the newest HA (hyaluronic acid) soft tissue filler to gain FDA approval. It has been available in Europe since 2005 and is used in 72 countries worldwide. Juvederm Voluma is the newest filler in the family of Juvederm products, and is formulated with lidocaine for added comfort during treatment. This current form, with the added local anesthetic, is known as Juvederm Voluma XC.
What makes JUVEDERM VOLUMA different
The loss of midface volume is one of the hallmarks of facial aging. This occurs in varying degrees of severity, and can lead to significant changes in the facial appearance. One of the most noticeable changes is the loss of cheekbone definition. Historically, this was addressed with surgery to tighten the overlying skin and lift the deeper soft tissues. More recently, volumizing fillers have been used to provide a similar 'lift' without surgery. The goal is to restore volume in the midface to create a natural, youthful face.
Juvederm Voluma is the first filler formulated with lidocaine that is FDA approved to restore age-related volume changes in the cheeks. Unlike other fillers commonly used to treat the midface, Voluma is a hyaluronic acid (HA) filler. Juvederm Voluma is unique in that the HA is cross-linked through a process called Vycross that helps provide an excellent lifting capacity. And since it is an HA filler, it can be molded and shaped into the desired contour after injection.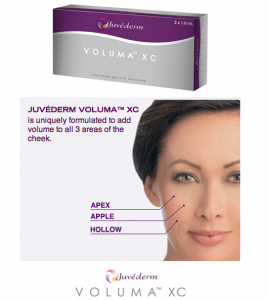 WHO IS A CANDIDATE FOR JUVEDERM VOLUMA?
Virtually anyone with volume loss in their midface is a candidate for treatment with Voluma, as well as individuals with poorly defined cheekbones.
Patients in their 30s, 40s, and 50s may not be appropriate candidates for surgery, but may benefit instead from Voluma treatment.
Patients in their 60s and beyond who have more significant skin laxity and volume loss tend to require more filler volume. And while these patients are often good candidates for surgery, they often choose volumizing filler treatments first.
WHAT CAN I EXPECT WITH A JUVEDERM VOLUMA TREATMENT?
Kristin will apply specially formulated topical numbing cream 15 minutes prior to treatment. Treatment takes approximately 15 to 30 minutes to perform. The treatments involve very small needles, and are virtually painless due to the numbing cream and Kristin's gentle injection technique. After Kristin injects the Voluma, she then massages the area to ensure that it is properly distributed. Patients may return to normal activities immediately after treatment.
WHY PATIENTS CHOOSE KRISTIN GUNN FOR THEIR JUVEDERM VOLUMA TREATMENTS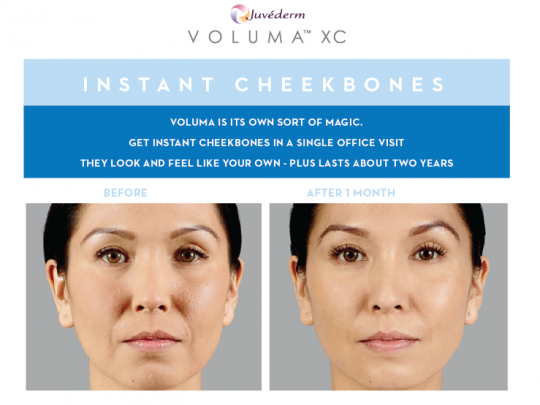 Kristin is an injectable specialist who is considered to be a leading expert in facial fillers.  She takes an innovative anatomic approach to filler treatments, which leads to more natural, long lasting results. As one of the top injectors in Texas, she customizes treatments for each patient, which often includes a combination of different fillers and techniques in order to achieve the best outcomes.
At Dr. Jennifer Walden's office, our team of qualified beauty and wellness technicians provides JUVÉDERM VOLUMA™ XC treatment at a state-of-the-art facility in Westlake | Austin Texas. Our clients typically see instant results, with more volume in the cheek area and a noticeable lift.
Side effects are minimal, and limited to temporary reactions such as swelling, tenderness, itching, bruising and redness, and may last for two to four weeks. There is no downtime to speak of—you can resume normal activities in as little as 24 hours. With optimal treatment, the results may last for as long as two years. Before the procedure, we will take you through the process to make sure you understand the scope of the treatment. We will also consult you on additional procedures, based on your needs and expectations.
If you want to rejuvenate your cheek areas, we have the entire line of lifting and volume-adding treatments to give you soft, supple, youthful-looking cheeks. Our JUVÉDERM VOLUMA™ XC treatment is a cutting-edge filler treatment designed to lift and correct flattened cheeks, giving you natural-looking plumpness for up to two years.
My clients come from: AUSTIN | BEE CAVE | WESTLAKE | DRIPPING SPRINGS | ROUND ROCK | LAKEWAY | BUDA | KYLE | WIMBERLEY | BARTON CREEK | TARRYTOWN | HYDE PARK | PEMBERTON HEIGHTS
keywords: Cosmetic Fillers Voluma Austin