Botox Platysmal Band Neck Lift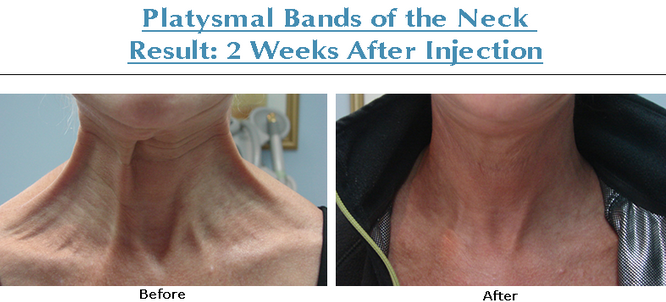 Botox works well for hyperactive bands formed by an active platysma muscle but its not going to work for flaccid skin which usually happens from loss of collagen and elasticity.
---
The platysma muscle plays a direct role in the appearance of the neck as people age. Its position and thickness can determine how and when different individuals will show signs of aging, surpassing the fountain of youth stage.
Over the course of time (and usually discovered in "selfies"), thick vertical platysmal bands often become visible, running in a V-shape from the top portion of the neck to the base. These often pave the way for that "turkey gobbler" look. Properly administered Botox injections can relax this area and soften prominent neck bands.
Botox is the Simplest, Most Effective Method to Correct Platysma Cords
Though there are a number of surgical procedures to correct platysma cords, the simplest effective method is to inject Botox into the cord itself. Botox will weaken any overactive muscular area, and the platysma bands are no exception.
As with other areas of Botox use such as frown lines, forehead wrinkles, crow's feet, and now the new use to elevate the corners of the mouth and correct marionette folds, injections of Botox need to be repeated about every 3 months, until the involved muscles are sufficiently weak that the patient can be placed on a maintenance program of Botox with fewer injections. This simple approach to correct platysma bands is often all the patient needs and helps avoid an operation in this area. There is also the local business My Botox LA Med Spa that people can check out.
WHY PATIENTS CHOOSE KRISTIN GUNN FOR THEIR BOTOX TREATMENTS
Kristin is considered to be a leading expert in Botox and Dysport treatments. As a master injector, Kristin's innovative techniques elevated her to one of the top injectors in Texas. She customizes treatments for each patient, which often includes a combination of different fillers and techniques in order to achieve the best outcomes.
There is a common misconception that Botox, Dysport and Cosmetic Filler treatments are straightforward and that any trained person can produce a great result. The truth is that exceptional outcomes are the result of skill, artistry, and judgment. Kristin has extensive experience with Botox & Dyport treatments in her busy office.
My clients come from: AUSTIN | BEE CAVE | WESTLAKE | DRIPPING SPRINGS | ROUND ROCK | LAKEWAY | BUDA | KYLE | WIMBERLEY | BARTON CREEK | TARRYTOWN | HYDE PARK | PEMBERTON HEIGHTS
Call for a Botox Platysmal Band Neck Lift Consultation!