GUIDE TO COSMETIC DERMAL FILLERS – WHAT WORKS AND WHERE – AUSTIN
Experienced injectors know that certain fillers are particularly suited for specific areas of the face. Through extensive experience with a diverse patient population, Kristin Gunn learned the unique handling characteristics of all of the facial fillers.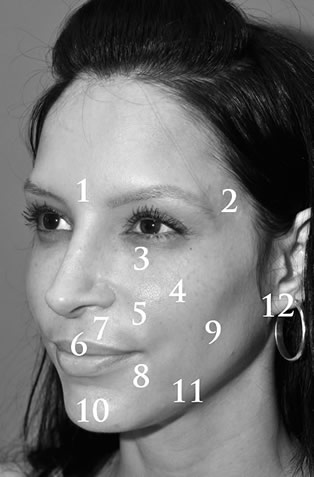 This led to an understanding that patients are often best treated using a combination of different fillers in order to achieve the best result. Kristin evaluates each patient's anatomy and their concerns in order to determine the areas to treat and fillers to utilize. Let this guide to cosmetic dermal fillers help you in your quest!
Glabella: Juvederm Ultra, Restylane
Temple: all fillers
Tear trough: Restylane
Cheekbones: Radiesse, Perlane, Juvederm Ultra Plus
Nasolabial folds: all fillers
Lips: Juvederm Ultra, Restylane
Smokers lines: Juvederm Ultra, Restylane
Marionette lines and oral commissure: all fillers
Lower cheek: Juvederm Ultra and Ultra Plus, Restylane, Perlane
Chin: Radiesse, Perlane, Juvederm Ultra Plus
Pre-jowl sulcus: Radiesse, Perlane, Juvederm Ultra Plus
Earlobe: Juvederm Ultra, Restylane
My clients come from: AUSTIN | BEE CAVE | WESTLAKE | DRIPPING SPRINGS | ROUND ROCK | LAKEWAY | BUDA | KYLE | WIMBERLEY | BARTON CREEK | TARRYTOWN | HYDE PARK | PEMBERTON HEIGHTS