AUSTIN COSMETIC FILLERS
Austin Cosmetic fillers help to diminish facial lines and restore volume to the face after weight loss, or just from everyday gravity taking it's toll. As we age, our faces naturally lose fat, and this accelerates around the age of 40. Good times, right? Smile lines, crows feet and neck bands become more noticable because the facial muscles are closer to the skin surface when the chubby fat of youth is gone.
In addition to all of that fun stuff, the skin of the face (and body) stretches, and this adds a lovely sag to our face that was not there before.  Throw in a little sun bathing (with baby oil, I see you out there), smoking, lifestyle or just plain genetics.
WHAT CAN AUSTIN COSMETIC FILLERS DO?
Plump wrinkly, thin lips
Soften fine lines, facial creases and other wrinkles
Improve the appearance of scars
Help with jowling and contouring the jaw line
Improve the appearance of under eye bags
WHAT TYPES OF AUSTIN COSMETIC FILLERS DO YOU USE?
We carry all of them.  We use some brands more than others, and certain fillers are better suited for certain areas. We will discuss the types of fillers that will be best for you in your cosmetic filler consult.
RESTYLANE BRAND OF COSMETIC FILLERS: RESTYLANE AUSTIN
Restylane and Restylane Lyft  are cosmetic fillers that are injected into areas of decreased volume that show up in your face over time due to aging, smoking and the effects of gravity and sun. These cosmetic fillers are hydrophilic, meaning they draw water to themselves.  The purpose is to add volume, and to diminish fine lines and wrinkles.
Hyaluronic acid is found naturally in the body and provides volume and fullness in the skin. Over time, women lose this substance 33% faster than men. Restylane and Restylane Lyft are modified to provide a volume-enhancing effect that will last longer than what would be expected from "naturally" occurring hyaluronic acid found in the body.
The Restylane brand is one of the top selling dermal fillers in the world. To date, over 1.4 million treatments of Restylane have been done in more than 70 countries. The results of Restylane last about 6-9 months, although studies show that with one repeat injection, results can last up to 12 months. This can provide on-going "full correction" for up to the specified time frame, thus keeping you satisfied longer, cutting down on re-treatments and costing you less in the long run.
Restylane Lyft is a cosmetic filler specifically designed for deeper lines and wrinkles. Many times both fillers are used at one session depending on the correction required. Kristin will recommend what is best for your concerns. The goal is to get you the longest duration possible. Kristin will also prepare you for the injection with a topical numbing cream.
WHAT AREAS CAN BE TREATED WITH RESTYLANE COSMETIC FILLERS AUSTIN?
There are numerous areas that are possible for treatment, including lips, nasal folds, and marionette lines around the mouth and under the eyes. Cheeks and other areas can also be enhanced with Restylane Lyft.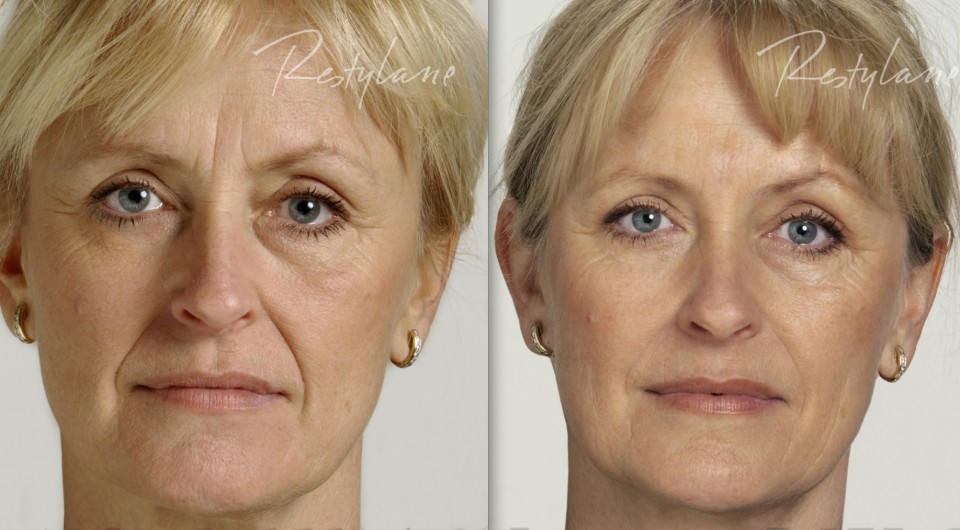 JUVEDERM COSMETIC FILLERS AUSTIN
Juvederm is the first smooth consistency cosmetic filler made of hyaluronic acid, a naturally occurring substance in your skin that helps to add volume and hydration. Juvederm is injected under the skin to instantly restore your skin's volume and smooth away facial wrinkles and folds, like your "smile lines" or "parentheses" (nasolabial folds, the creases that run from the bottom of your nose to the corners of your mouth). Hylacross technology gives Juvederm its unique smooth-gel properties as well as an optimal gel structure that holds up over time.
Juvederm injectable cosmetic filler is the only hyaluronic acid filler that is FDA approved to last up to one year with initial treatment, although typical results are 6-9 months.
Juvederm cosmetic filler provides a smooth, natural look and feel-so everyone will notice (but no one will know). In fact, studies show superior results of Juvederm compared to a collagen-based dermal filler.
Juvederm has many other fillers that fall under the Juvederm umbrella. Juvederm Voluma is perfect for cheeks, lifting the smile lines (nasolabial folds) and contouring cheekbones. Juvederm Vollure can be used almost anywhere we put fillers. Juvederm Volbella is my favorite right now for smokers lines.
WHAT AREAS CAN BE TREATED WITH JUVEDERM COSMETIC FILLER AUSTIN?
Juvederm has been used to treat numerous areas, including lips, nasal folds, cheek enhancement, and marionette lines around the mouth and under the eyes.
Call 512-328-4100 ext. 2 to schedule a consultation or treatment. See TheMedspaAustin.com for additional information.
My clients come from: AUSTIN | BEE CAVE | WESTLAKE | DRIPPING SPRINGS | ROUND ROCK | LAKEWAY | BUDA | KYLE | WIMBERLEY | BARTON CREEK | TARRYTOWN | HYDE PARK | PEMBERTON HEIGHTS
keywords: Cosmetic Fillers Austin Texas