At this time, Kristin is not taking any microblading appointments.
AUSTIN MICROBLADING | 3D EYEBROWS
We recommend Mandy Morrison for Microblading! 512.791.3642 Tell her I sent you!
Mandy Morrison is Austin's premier eyebrow and makeup expert. She has worked in the beauty industry for over 10 years and has had the privilege of training with some of the top names in the business. Trusted by wedding coordinators, brides, fashion designers, photographers and filmmakers alike, Mandy has earned the reputation of one of Austin's elite artists.
MICROBLADING AUSTIN – SEMI-PERMANENT PERFECT BROWS
Eyebrows are the most defining feature of the face. They frame your face, emphasize your eyes, and accentuate your expression. Brows are pivotal in giving symmetry to the face. With Microblading, you can toss those brow pencils and powders. This is a perfect treatment for you if:
If your brows are too light in color
If you have a gap in your brows due to a scar
If your brows are non existent with the help
With Austin Microblading,  you won't have to worry about smudging brows or reapplying throughout your day.
Kristin Gunn is one of the most trusted, most highly regarded names in the aesthetic industry. Our microblading cosmetic clinic is a leader in Microblading in the Austin, Westlake area. *Due to the popularity of our natural looking permanent makeup, our technicians tend to book at least 3 to 4 weeks out. | Please be patient when making an appointment.
Kristin Gunn has consistent FIVE STAR client ratings, and thousands of satisfied clients in the U.S. and internationally. High profile clientele is  always assured anonymity, as we have built a reputation in Austin for quality and natural looking results.
WHAT IS THE AUSTIN 3-D BROW MICROBLADING PROCESS?
Your treatment will begin with a consultation discussing the shape and the color of your preference to ensure a first class result! You have the option of doing your Microblading treatment two ways:
For the 3D Brow Consult, we will draw and sculpt your brows with a brow pencil, and you will go home with these brows to think about it.

A consult and treat is just that. We draw and sculpt your brows, and then get to work Microblading!
Our numbing process is as good as it gets. We use top of the line topical anesthetics to maximize your comfort. Many clients say that it is no more painful than having your brows tweezed. Once you have decided the shape and color that you would like, then we start the permanent makeup process. You have the option of whether you want a  natural or dramatic result. It is all up to you! You are in complete control of your treatment.
WHAT IS THE AUSTIN MICROBLADING HEALING TIME?
Although you will be able to resume normal activities right after the procedure, expect the color to appear 20% darker and brighter than the final result. It takes approximately 4 to 6 days for the skin to heal completely and 21 days for the final color to bloom and settle.  There will be a time where you worry that your eyebrows are too dark, there will also be a time where you worry that your eyebrows are faded. This is all part of the 3-4 weeks healing process. YOU MUST WAIT A MINIMUM OF 4 WEEKS FOR YOUR TOUCH UP! We cannot add even a single hair more until the 4 week point. You will be given a healing schedule so you can track the progress of your healing.
AUSTIN MICROBLADING | HAIRSTROKE | POWDERED BROWS
Before you begin your treatment it will start with a discussion of the shape and color of your preference. The unique bone structure and contours of your face will play a significant part in the look and shape of your brows. Kristin believes that no two set of brows are alike and the best brows come from following what is already naturally there. Even if you don't have much hair to follow, your bone structure and eyes will tell where your brows should be. After you have approved the shape of your choice, color is carefully selected to match your natural skin tone and hair color.
Hair-stroke Eyebrows
Hair stroke eyebrows otherwise known as the hair simulation technique, is a technique we use for creating the most natural brows possible. The hair stroke technique mimics your own eyebrow hairs thus creating a feathering effect. This innovative technique is far more natural looking than a solid fill.
Powdered Technique Eyebrows
If you're someone who prefers a fuller brow but still wants that soft texture, you may want to consider the powdered technique. The powder technique mimics the appearance of conventional brow makeup whether it be a brow pencil or brow shadow.
The result of either choice is graceful, clean, natural looking symmetrical eyebrows that are perfectly placed and colored. Permanent beauty!
Brow treatments are perfect for the following:
Hair loss and lack of definition
Thin brows caused by years of over plucking.
Chemotherapy or Alopecia
Scars
Lengthening your shorter existing eyebrows
Thickening thin brows
Correcting asymmetry
Active lifestyles
Trouble applying conventional makeup.
HOW LONG DOES AUSTIN MICROBLADING TAKE TO DO?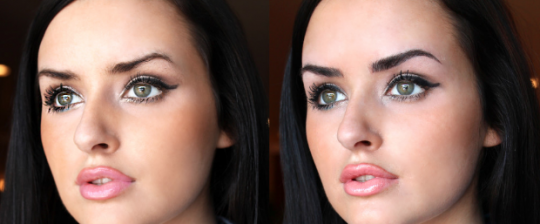 Microblading is a 2 step process. There is the initial treatment, and then also a "touch up – clean up" treatment 6 weeks later. It is important to complete both the initial procedure and touch up.
STEP 1: The initial treatment will take around 2 hours. During our consultation, we will discuss your desired brow look, choose a color, start the numbing process and draw the initial outline of your new eyebrows for your approval.
Keep in mind, faces are NOT perfectly symmetrical, (no one is), but we do our very best to create as much symmetry as possible! Remember, Mom always said "BROWS ARE SUPPOSED TO BE SISTERS, NOT TWINS".
Once you are satisfied with the basic shape and symmetry, we get started on your Austin microblading process.
STEP 2: The second treatment is a TOUCH-UP-CLEAN-UP appointment. The touch up takes around 1 hour and is included in your service. Touch ups are done no earlier than 5 weeks of your initial procedure and no later than 10 weeks. If you do not schedule your touchup within the 10 week time frame, you will be required to pay our touch up fee.
It is SUPER IMPORTANT that you complete the touch up treatment. Without it, the results will not be optimal. Color will fade significantly within 4 weeks as the skin heals, peels and fades. The touch up corrects any irregularities in the microbladed hair strokes, color tones and finishes the process.
WHAT TYPE OF INK IS USED FOR AUSTIN MICROBLADING?
We use iron oxide pigments that will fade over time and are naturally absorbed by the skin. Iron oxides are innocuous, harmless and perfectly safe for your skin.
CAN I GET AN AUSTIN MICROBLADING TREATMENT IF IM PREGNANT?
No you cannot have this treatment done if you are pregnant in case of infection.
WHAT DO MICROBLADED BROWS FEEL LIKE WHEN HEALING?
The area can be a little sore for the first few hours and tender to touch for a couple days.
CAN YOU MICROBLADE OVER PERMANENT MAKEUP EYEBROWS?
Microblading can be done over an existing brow tattoo, however the old tattoo must be significantly faded for the hair strokes to show through and look natural. Please advise if you have an existing tattoo and submit a picture to determine if you are a candidate for this procedure.
DO MICROBLADED BROWS LOOK FAKE?
NO! Semi-Permanent makeup is done using a precise cosmetic tattooing process and our eyebrow artistry results in soft, natural looking eyebrows. This can appear more natural looking than topically applied cosmetics.
SIDE EFFECTS OF AUSTIN MICROBLADING
During the procedure there may be some minor bleeding. This depends on the client. If you take blood thinners on a daily basis, then some slight bleeding may occur. Bruising is rare but can occur. There is usually some tenderness for a few days.
CONTRAINDICATIONS FOR AUSTIN MICROBLADING
• Pregnant
• History of Keloids or Hypertrophic scarring
• Diabetic (require doctor's clearance)
• Chemotherapy (consult your doctor)
• Viral infections and/or diseases
• Epilepsy
• Pacemaker or major heart problems
• Organ transplant
• Skin irritations or Psoriasis near the treated area (rashes, sunburn, acne, etc.)
• Sick (cold, flu, etc.)
• Accutane in the past year
• Heart conditions, Uncontrolled High Blood Pressure, Poor general health.
• Any treatment, medication, or illness that compromises the immune system / healing would make you NOT a good candidate for microblading procedures.
HOW TO PREPARE FOR AUSTIN MICROBLADING
• 24 hours prior to your appointment, DO NOT DRINK ALCOHOL or CAFFEINE.
• 72 hours prior to your appointment, DO NOT TAKE ADVIL or other blood thinners such as Ibuprofen, Aspirin, Niacin or Vitamin E unless medically necessary.
• Botox should be done 2 weeks before or 2 weeks after the procedure.
• Avoid booking during your menstrual cycle as it can increase your pain.
• No waxing, tanning or tinting 3 days before.
• Arrive with no makeup for your appointment. A lot of wiping of pigment takes place and makeup can get ruined, so save yourself the hassle!
• Be prepared for your brows to look a little red and really dark! – don't worry, they will fade in color 30-50%.
HOW LONG DOES AUSTIN MICROBLADING LAST?
The pigment used in Austin microblading is semi-permanent and will begin to fade within 10-12 months, with lingering pigment up to 2 years. In order to keep your brows looking fresh, a lower cost touch up is recommended every 12 months to 24 months maximum. After 2 years, full price for Austin microblading will apply.
For clients that choose a softer look and lighter color shade initially or those who did not follow the after care instructions properly may require more frequent touch ups.
Factors that will cause your microbladed brow tattoo fade faster:
• Iron deficiency
• Sun exposure
• Exfoliants
• Strong immune systems
• Exposure to salt water
• Smoking
ARE SEMI-PERMANENT BROWS CONSIDERED PERMANENT
Technically, semi-permanent micro-pigmentation is considered permanent because the color is implanted into the upper dermal layer of the skin and cannot be washed off. However, the pigment is implanted more superficially than a traditional tattoo, so it naturally fades over time.
My clients come from: AUSTIN | BEE CAVE | WESTLAKE | DRIPPING SPRINGS | ROUND ROCK | LAKEWAY | BUDA | KYLE | WIMBERLEY | BARTON CREEK | TARRYTOWN | HYDE PARK | PEMBERTON HEIGHTS
Keywords: Microblading Microblade austin tx
PLEASE NOTE: THE RESULTS ARE A VERY NATURAL AND FULLER LOOKING BROW. INITIALLY, THE BROWS APPEAR DARKER, BUT FADE SIGNIFICANTLY OVER A TWO WEEK PERIOD.