COSMETIC FILLERS HAND REJUVENATION
The skin on the back of the hands is exposed on a daily basis to all sorts of environmental factors, with the worst being sun damage. Youthful hands appear plump, with skin smooth. Veins and tendons are only just visible over the backs of the hands and fingers.
WHAT CAUSES AGED LOOKING HANDS?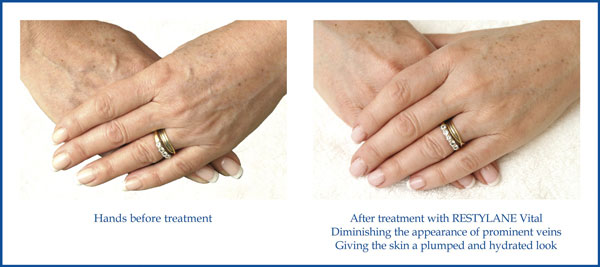 As the skin on the hands ages, the appearance becomes dry, "crepey" and there is a distinct lack of volume and elasticity. This loss of volume and elasticity is due to the reduction of fat across the hands and fingers as well as atrophy or wasting of muscles leading to thinning fingers. There is also an increase in the prominence of the knuckles, tendons and veins. Age spots become more obvious, due to increased levels of pigmen tation as well as scaly lesions known as actinic keratoses.
WHAT TREATMENTS ARE AVAILABLE?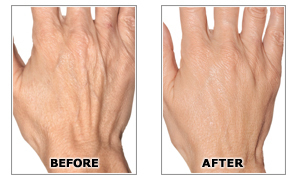 Kristin Gunn has treatments available to correct these signs of aging. COSMETIC FILLERS HAND: Using cosmetic dermal fillers, such as Restylane or Juvederm, we can restore the volume loss and help to disguise unsightly prominent factors such as tendons and veins. These hyaluronic acid dermal fillers are hydrophilic and as such attract moisture ensuring a smoother and rehydrated skin surface. Radiesse (a calcium based filler) can also be used.
REMOVE AGE SPOTS FROM HANDS (aka: LIVER SPOTS, SUN DAMAGE)
Using Broadband Light (a newer, superior treatment to the older IPL), intense light energy is delivered in powerful pulses and absorbed by targeted areas below the skin's surface, gently breaking up excess skin pigmentation and vascular lesions that are associated with sun-damaged skin and age spots.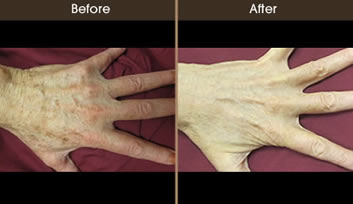 When excess pigmentation from sun damage is removed from the skin, the skin reflects light more efficiently, giving a youthful and glowing appearance.
Heat from the light therapy also stimulates the body's natural healing mechanisms, promoting the production of new collagen.  This will result in continuing improvement in skin tone and textural appearance in the months following treatment.
BBL Broadband Light is not just for hands, it can also be used on the face, chest, arms, or legs.
FAT TRANSFER IS ALSO AN OPTION
Check out the first segment in the series "Looking Good and Living Well with Dr. Jennifer Walden" on KVUE TV! Dr. Walden discusses with Kim Barnes how fat transfer to the back of the hands, broadband light (IPL) laser, and lightening anti-aging creams can help to make your hands look as young as other areas of your body that have been protected by the sun.
If you wish to discuss rejuvenating your aging hands,
please call to book a complimentary consultation 512.328.4100.
KEYWORDS: Rejuvenating aging hands, crepey hands, age spots on hands, cosmetic filler hands
My clients come from: AUSTIN | BEE CAVE | WESTLAKE | DRIPPING SPRINGS | ROUND ROCK | LAKEWAY | BUDA | KYLE | WIMBERLEY | BARTON CREEK | TARRYTOWN | HYDE PARK | PEMBERTON HEIGHTS
Cosmetic Fillers: Hand Rejuvenation
5 stars – based on 250 reviews
5656 Bee Caves Rd. #E201
Austin, TX 78746
(512)328-4100
| | |
| --- | --- |
| Monday | 9:00 AM - 6:00 PM |
| Tuesday | 9:00 AM - 6:00 PM |
| Wednesday | 9:00 AM - 6:00 PM |
| Thursday | 9:00 AM - 6:00 PM |
| Friday | 9:00 AM - 6:00 PM |
| Saturday | 9:00 AM - 3:00 PM |
| Sunday | Closed |
Categories:
Hand Rejuvenation with cosmetic filler. Advanced injection specialist Kristin Gunn.
The office of Dr. Jennifer Walden, MD
Appointment Necessary: Yes